Shopping Cart:
0 items
ABC #3 ANTIFOULING PAINT
High-performance tin-free antifouling coating. Unique self polishing mechanism that prevents attachment of marine fouling organisms. Suitable for shi
AMERLOCK SEALER
Amerlock Sealer is a penetrating sealer for marginally prepared steel and aged coatings. Its low viscosity and excellent wetting properties allow it t
AMERON 235
Exceptional corrosion protection in salt and fresh water immersion and corrosive chemical environments, surface tolerant, excellent adhesion to ti
AMERON 450HS
Acrylic polyurethane finish topcoat where attractive appearance and long-term gloss and color retention are desired. VOC compliant.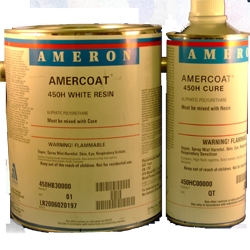 AMERON 923 THINNER
Thinner used in 450hs applications and cleanup.
AMERON AMERLOCK 2 FAST DRYING TANK COATING
Amerlock 2 is a high solids epoxy coating used for maintenance of steel and concrete surfaces. Amerlock 2 may be applied directly to bare steel and ca
AMERON T10 EPOXY THINNER
AMERON - T10 EPOXY THINNER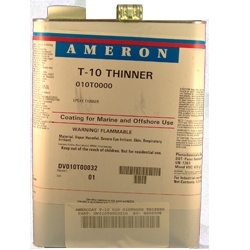 AMERON T8 THINNER
Thinner for Amerlock 2 tank coating.