Shopping Cart:
0 items
Blades-Knives-Scrapers
1" TRIM SCRAPER
Features: Tempered steel blade is easily sharpened or replaced, Easy-change blade is curved to taper surface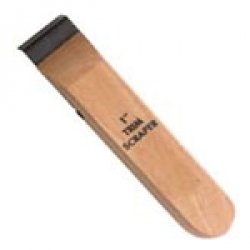 2" PLASTIC PUTTY KNIFE
This Knife has a tapered flexible blade with a comfortable grip that resists bending and breaking and Intended to be disposed of after use
5 IN 1 TOOL WITH POLYETHELYENE HANDLE
Heat treated, hardened, and tempered blade holds an edge and performs under stress.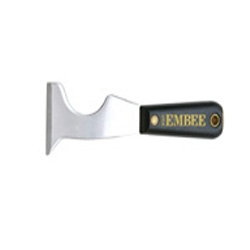 6" STAINLESS STEEL JOINT KNIFE
Stainless steel blade, full tang through-the-handle design for ultimate durability. Annealed for even hardness throughout the blade.
8" SHARPENING FILE
Heavy, extra-fine high carbon steel to sharpen, reshape blades. Ideal for scrapers, chisels, shears, mower blades. Made in the U.S.A.
BENT BLADE SCRAPER
Thick tempered blade with a sharp edge, blade is angled at 20 degrees for easier paint removal, scraper works equally well with heat guns or chemical
BOX CUTTER
All Metal (Aluminum) Handy Cutters, Brushed Aluminum Finish, Thousands Of Uses, Tap Open, Tap Close, Easy Blade Change, Made In USA.
FILM CUTTER
All Purpose Hook Knife, Cuts Foam, Stretch Wrap, String, Ribbon, Twine Durable, Impact Resistant Handle, HI - VIS Yellow Blade, Storage In Handle, Qui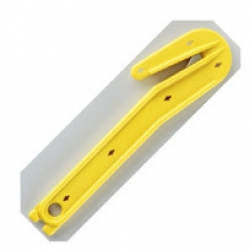 FLEX PUTTY KNIFE
Heat treated, hardened, and tempered blade holds an edge and performs under stress
PLASTER CRACK CUTTER
Hardened steel ti, resilient DuraSoft