Shopping Cart:
0 items
Brushes-Rollers
Rollers & Frames
CORONA GLASSKOTER PINK ROLLER COVER
Woven Mohair blend. 1/8" nap. Solvent resistant phenolic core.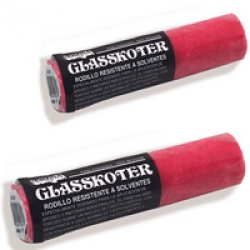 CORONA GLASSKOTER WHITE ROLLER COVER
All-purpose Polyester. Solvent resistant phenolic core.
CORONA SLICKER YELLOW FOAM ROLLER COVER
Fine-celled foam. For enamels, varnishes and urethanes on smooth surfaces. Solvent resistant phenolic core.
CORONA SLIM TRIM ROLLER COVER
3" Mohair cover. Metal end caps. 1/8" galvanized "midget slim" wire handle.
CORONA ULTRADEL YELLOW ROLLER COVER
High-density Golden Polyester. Plastic core. For all flat paints
LINZER 3/8 NAP LINTLESS ROLLER COVER
Solvent resistant phenolic core rollers. Deluxe is mohair style for enamels and varnishes applHose I.D. to smooth surfaces.
SHUR-LINE FABRIC ROLLERS
Fabric roller for semi-smooth surfaces. This Shur-Line Fabric Roller is one of many top quality items in our Specialty Paint Rollers department, 2 ROL
SHUR-LINE FOAM ROLLERS
Foam roller refills. Works well on ultra-smooth surfaces. 2 per package.
SHUR-LINE HANDLES
Delivers a smooth finish with enamels, varnishes and high gloss paints. Covered roller end paints corners and walls at the same time. Threaded handle.
WHITE LINTLESS ROLLER COVERS
4" and 9" lintless roller cover with 3/8 inch nap and phenolic core.