Ideal for shaping filler and stripping paint to metal
Ceramic aluminum oxide blend abrasive offers excellent cut rate and life
Built on D or E weight paper backing, making them extremely durable
Open coat construction provides a more aggressive cut and minimizes dust clogging
Hookit™ hook and loop attachment makes changing sheets fast and easy
Several versions feature 18-hole pattern for improved dust evacuation
Our 3M™ Green Corps™ Hookit™ Abrasive Sheet 255U combines features for smooth sanding on tough surfaces. Grade 36 to 100 ceramic and aluminum oxide blend abrasive is resin bonded to durable D or E weight paper backing, with open coat construction that reduces loading even on fresh filler. Sheets are ideal for shaping plastic filler and putty, paint removal and scratch refinement on bare metal.
Ideal for paint removal and more
A Tough Sanding Sheet for Tough Surfaces
Built to hold up during the most demanding auto body sanding jobs, 3M™ Green Corps™ Hookit™ Abrasive Sheet 255U features a sharp, tough blended grain and durable D and E weight paper, resin bonded for heat resistance during sanding of flat or difficult surfaces. And our Hookit™ attachment system lets operators quickly change out sheets during multi-step sanding processes.
Superior Dust Resistance
Open coat construction means that our abrasive grains are spaced so that dust and debris can collect in the spaces rather than loading the sheet. Additionally, the open coat feature provides a more aggressive cut than a comparable closed coat abrasive of the same grade, for faster results. Several versions of this sheet feature an 18-hole pattern that helps evacuate dust from the work surface, dramatically increasing the life of the sheet and maximizing cut-rate.
Blended Grain for Better Cut
The 3M™ Ceramic Abrasive Grain is a ceramic mineral designed using a 3M process to enhance toughness and hardness of the grain. For increased performance, 3M™ Green Corps™ Hookit™ 255U abrasive sheets feature aluminum oxide blended with 3M™ Ceramic Abrasive Grain for one of the most durable, longest-lasting abrasives available. Perfect for moderate to heavy stock removal as well as sanding and finishing applications, ceramic abrasives are engineered to cut fast and handle intense heat and stress. Ceramic aluminum oxide blend surpasses aluminum oxide abrasives in cut-rate and durability, making this sheet an excellent choice for sanding metal, plastic and fiberglass substrates as well as finishing applications.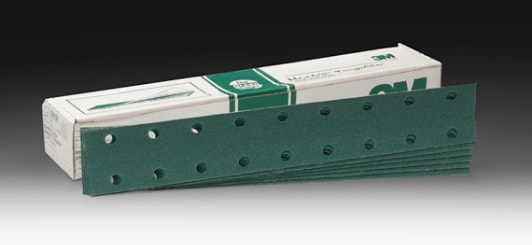 Several versions feature an 18-hole pattern to help evacuate dust
Our Hookit™ Attachment System
Hook-and-loop style 3M™ Hookit™ sheets are ideal for work spaces where adhesive backed sheets may become contaminated by dust, dirt, or flying debris. Hookit™ abrasive sheets conveniently and firmly attach to a hook-and-loop air file shoe or hand file board (sold separately), can be removed cleanly and easily, and be used again and again for the extent of the abrasive life.

Durable Through and Through
From grain to backing to bonding to disc pad attachment, our Green Corps™ Hookit™ Abrasive Disc 255U is built for long life — even for tough auto body sanding projects. Top quality sanding using fewer discs is just another way that 3M helps auto body professionals get the most from their operations.


| | |
| --- | --- |
| Abrasive Material | Ceramic Aluminum Oxide |
| Application | Paint Preparation |
| Attachment Type | Hook & Loop |
| Backing Weight | E Weight |
| Brand | Hookit™ |
| Case Quantity | 5 Sleeves per Case |
| Color Family | Green |
| Grade Range | Coarse (24-P120) |
| Grit | 100 |
| Number per Inner | 10 per Sleeve |
| Overall Length (Imperial) | 30 yd |
| Overall Length (Metric) | 27.432 m |
| Overall Width (Imperial) | 4.5 in |
| Overall Width (Metric) | 114.3 mm |
| Packaged Form | Sleeved |
| Performance Level | Better |
| Product Color | Green |
| Product Form | Sheet |
| Sanding Method | Hand, Machine |
| Sanding Surface | Clear Coat, Fiberglass, Filler, Metal, Paint, Plastic, Putty |
| Sanding Type | Dry |
| Size (Imperial) | 4.5 in x 30 yd |
| Size (Metric) | 114.3 mm x 27.432 m |
| TDS Required | No |
| Vacuum Support | No |