Shopping Cart:
0 items
3M - Marine Products
Compound & Polishes
Compounds & Glazes
3M IMPERIAL COMPOUND AND FINISHING MATERIAL
This liquid compound and finishing material is designed to remove a P600 or P800 dual action sand scratch from gelcoat, with a wool pad.
3M IMPERIAL HAND GLAZE
Imperial Hand Glaze is a non-silicone, non-wax hand glaze with high filling characteristics, excellent depth of shine and superior luster.
3M IMPERIAL MICROFINISHING GLAZE
Machine applied glaze for use on automotive or marine refinish acrylic enamel and urethane paints, air dried from 24 to 48 hours.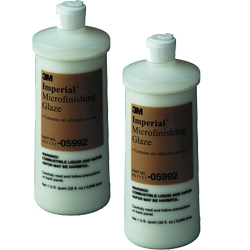 3M MARINE FINESSE-IT II COMPOUND
Finesse-it Finishing Material is designed for use on topside paint systems to remove Grade Microfine 1500 imperial Wetordry sand scratches, or to re
3M MARINE HIGH GLOSS GELCOAT COMPOUND
This paste compound is designed to quickly remove P600 D.A. or 1000 wet sanding scratches from production gelcoat. This compound contains no wax or s

3M Perfect-It 3000 Extra Cut Rubbing Compound
Provides a superior cut while leaving a fine swirl mark finish on all modern paint systems!
3M Perfect-It Machine Polish
Quickly and effectively removes compound swirl marks and produces an outstanding finish. Good handling, easy cleanup.