Shopping Cart:
0 items
3M - Marine Products
Compound & Polishes
Polishes & Waxes
3M MARINE ALUMINUM RESTORER AND POLISH
Removes oxidation growth and stains and restores a lustrous appearance to bare aluminum. Use sparingly, a little bit goes a long way. We recommend tes
3M MARINE CLEAN AND SHINE WAX
Quick and easy, spray on/wipe off product that recaptures that just waxed look and feel. Excellent for use on wet or dry surfaces; no water needed! En
3M MARINE CLEANER AND WAX
Designed to remove LIGHT to MEDIUM oxidation, clean polish and protect fiberglass/gelcoat. Unique liquid formulation combines a compound with a specia

3M MARINE METAL RESTORER AND POLISH
Designed to restore and polish stainless steel, brass, bronze, copper, chrome, aluminum and other marine metals by removing surface rust, oxidatio
3M MARINE RESTORER AND WAX
Designed to remove Heavy oxidation, chalking, fading, minor scratches, rust and exhaust stains; plus provide protection on fiberglass/gelcoat and

3M MARINE VINYL CLEANER, CONDITIONER AND PROTECTOR
Designed to clean, condition and protect marine vinyl and rubber components. Unique gel formula provides durable protection in exterior, as well a

3M PERFECT-IT FOAM POLISHING PAD GLAZE
Uniquely formulated to remove compound swirl marks. Contains no waxes or silicones. Best for dark colored paint finishes. Less clean up required.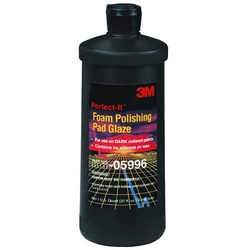 3M PERFECT-IT III CLEANER CLAY
A product that will safely remove over-spray and paint contaminates. This product can be used effectively on paint, glass and chrome when used wit
3M SUPER DUTY RUBBING COMPOUND
Aggressive compound. Remains wet on the job with little or no mess. Maintains high rate of cut with constant pressure. Buffs to high gloss with minimu
3M TARNI-SHIELD SILVER CLEANER
Cleans tarnish away quickly, easily, safely. Polishes as it cleans. Restores natural luster.